divine 
design maurizio manzoni
The warm colors of the nature in all the existing shades.
The king of kings  fulfills all wishes with its genuine elegance. The backrests with mechanism move in depth to get the ideal seat comfort for any occasion and taste. The black chrome metal plate on the armrest perfectly matches with other details with the same finish, such as the mechanisms, the tailored zippers, and the thin legs that elevate the product. The base and structure covered in leather allow you to play with contrasts if you choose to personalize the seats and backrests in fabric; or they give you a neat look in compositions entirely covered in leather. All cushions can be personalized either in leather or fabric.
 I colori caldi della natura in tutte le sfumature esistenti. Il re dei re esaudisce tutti i desideri con la sua eleganza senza mezzi termini. Gli schienali con meccanismo si spostano in profondità per raggiungere la seduta ideale per ogni occasione e per ogni gusto. Ii dettaglio della placca in metallo cromata nera sul bracciolo si sposa con altri elementi dalla stessa finitura come i meccanismi, le zip personalizzate e i piedi, i quali sono sottili e leggeri per dare slancio al prodotto. Una base e struttura di sostegno rivestite in pelle per giocare con i contrasti, scegliendo di personalizzare sedute e schienali in tessuto, o di estrema pulizia nelle composizioni completamente realizzate in pelle. Tutti i cuscini sono personalizzabili a piacere in pelle o tessuto.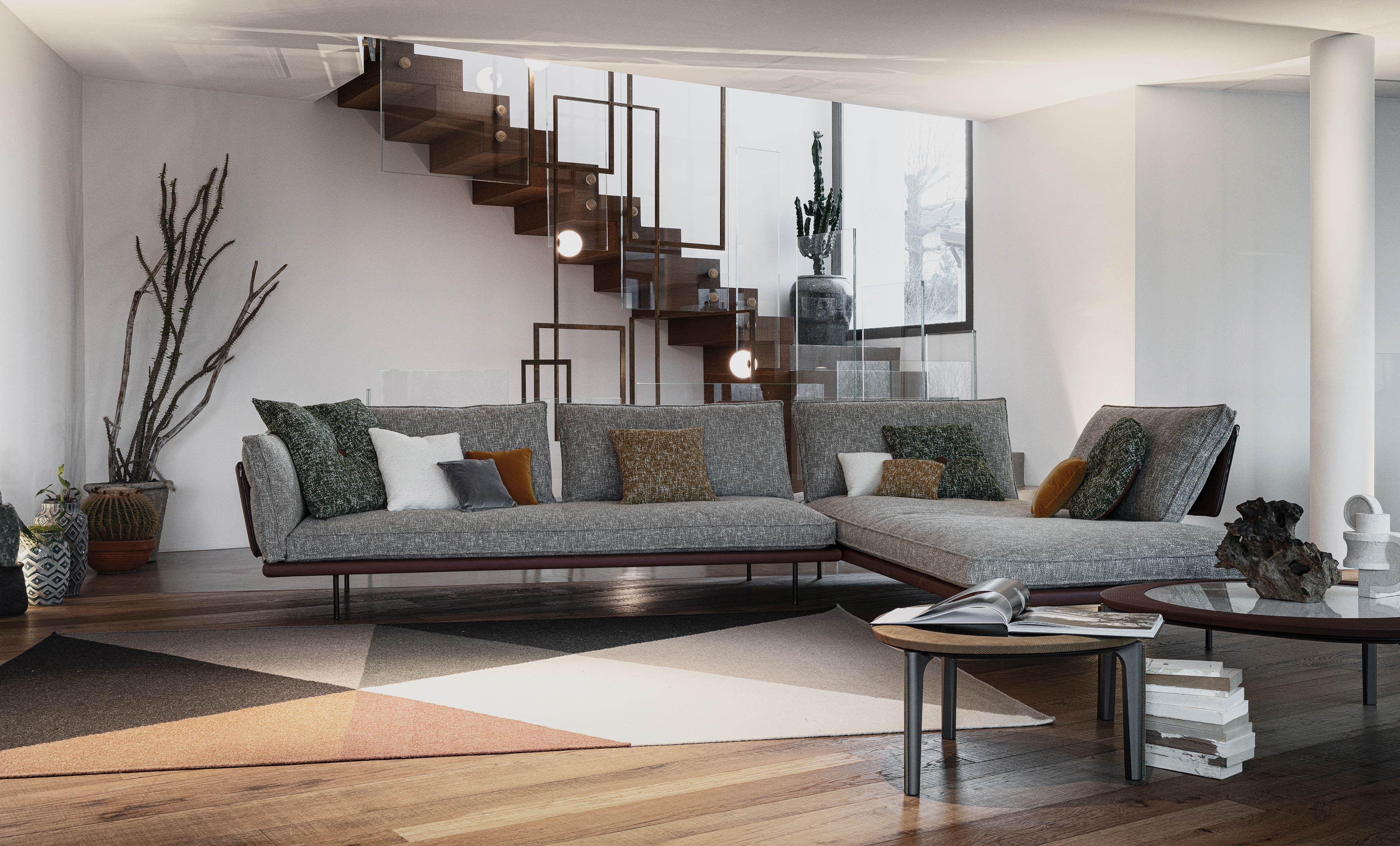 Modular sofa with metal structure and wooden frame supported by elastic belts. The seat cushions are filled with expanded polyurethane foam with three different densities, covered with hypoallergenic acrylic fiber. The backrests have a metal structure padded with expanded polyurethane foam and are equipped with a mechanism that offers two comfort positions (two different seat depth options). The back cushions are filled with an expanded polyurethane foam insert, covered with hypoallergenic acrylic fiber. The armrests have a wooden frame padded with polyurethane foam and a black chrome metal plate; the armrest cushion is filled with hypoallergenic acrylic fiber. The legs are in black chromed metal.
​​​​​​​Divano modulare con struttura in metallo e telaio in legno con supporto di nastri elastici. Cuscini di seduta con inserto in poliuretano espanso con tre densità differenti, rivestito con fibra acrilica anallergica. Struttura schienali in metallo rivestito con poliuretano espanso, dotata di un meccanismo che consente di avere due posizioni di comfort (due profondità di seduta). I cuscini schienali presentano un inserto in poliuretano espanso rivestito con fibra acrilica anallergica. Struttura braccioli in legno ricoperta di poliuretano espanso e placca in metallo cromato nero. Il cuscino bracciolo è totalmente in fibra acrilica anallergica. I piedi sono disponibili in metallo cromato nero.